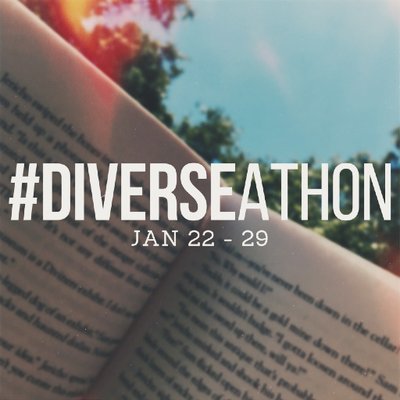 Today I am embarking on my second 'proper' readathon. Emboldened by the success of my participation in Deweys 24-hour Readathon last year (read all about it here), which I felt was not only very enjoyable but also really focused my reading over the 24 hours I took part, I wanted to take part in something longer and have a go at a week-long readathon. 
#Diverseathon, which runs from today (Jan 22) until Sunday (Jan 29) was started in the autumn of 2016 as a response to a video which claimed that diversity in books didn't matter. It is, therefore, a week long readathon that celebrates diversity and representation in books, be that BAME representation, disability and deformity representation or LGBTQ++ representation.
I heard about #Diverseathon via blogger and Booktuber Simon Savidge, one of the hosts of this month's readathon, who put up
great video
about #Diverseathon 2.0 along with his planned TBR for the week. Blogger Sophia Khan has also done a brilliant 
guest post
over at Book Riot that explains more about #Diverseathon's history and aims, as well as reasons you might want to consider participating yourself
.  
The concept of #Diverseathon appeals to me because, if I'm being honest, my reading can be really narrow at times. As a white, able-bodied, heterosexual woman living in the UK I have very little experience of being in the minority. And whilst I consider myself to be a supporter of equality in all its forms, I'm ashamed of how much my reading life reflects only my own lived experience. Looking at my shelves, there's a lot of white, European centred literature on there. This wasn't a conscious choice by any means but I find it telling and I want to do something about it. #Diverseathon is an opportunity to do this and to do it alongside others who I can share with and learn from. Plus I hopefully get to read a lot of great books too!
So, what tomes am I planning to topple during #Diverseathon? As luck would have it, I already have Jade Chang's 'The Wangs vs The World', a portrayal of a Chinese-American family in post-Lehman Brothers America; out from the library so this coming week seems like the perfect excuse to get that read. Billed as epic road-trip novel with a healthy smattering of humour, this also seems to be a book that examines the concept of the American dream as well as the differences between the first and second generation immigrant experience.
Similarly, Chimamanda Ngozi Adichie's acclaimed 'Americanah' has been on my TBR list for an absolute age. The novel, which examines the lives of teenage sweethearts Ifemelu and Obinze as they leave Nigeria to forge their lives in America and London respectively, is meant to be an unflinching exploration of
 race and identity. Adichie is an author whose fiction I've long been meaning to read so I really hope to get round to this one during the next week.
Another TBR book I've been itching to read but not yet got around to is Yaa Gyasi's debut 'Homegoing'. Released amid a good deal of  buzz this month in the UK, the novel has already garnered critical and reader acclaim in the USA. The story of two half-sisters, Efia and Esi, born in eighteenth century Ghana, one of whom is married off to an Englishman and the other who is sold into slavery in the New World, the novel follows their descendants in both Ghana and America through to the present day. I freely admit to knowing very little about the key moments in the history of the civil rights movement in the US and nothing at all about the history of Ghana so I'm hoping this novel will enlighten me on both points.
Moving across the Atlantic to English shores, Kit De Waal's 'My Name is Leon' has been
 recommended to me by a number of friends. Set in  the early eighties, the book tells the story of two brothers, 9 year old Leon and baby Jake, who are placed into foster care and threatened with separation because Jake is white and Leon is not. Beyond that, I don't know very much about the book but it's rare to find a book that examines the foster care system, let alone the tricky issues surrounding race and identity within this. In an era where blended families of many types are becoming increasingly common, this seems like an important and timely novel.  
Last, but by no means least, some non-fiction in the form of 'The Good Immigrant', edited by Nikesh Shulka. Subtitled '21 Writers Explore What It Means To Be Black, Asian & Minority Ethnic In Britain Today', this is a collection of essays by modern British writers that examines the charged issue of immigration in the UK and invites discussion around societal attitudes towards immigration and race. How does it feel the be constantly regarded as a terror threat? How does it feel to be told to 'go home' to India when you live in London? How does it always feel to tick the box on the form marked 'Other'? Can you only be a 'good' immigrant if you win a national baking contest or an Olympic medal? Challenging times need people to ask questions such as these so I'm looking forward to dipping into this selection during the course of the week.
It is, of course, highly unlikely that I'm going to read 4 novels and an entire essay collection in the space of 7 short days (especially as one of those days is already nearly over with nary a page yet read!) but I feel this list gives me some really good options for the week ahead and I'd like to try and finish at least one of the novels, as well as making a good dent into the essays. I'll be posting updates on Twitter throughout the week @amyinstaffs and am hoping to take part in some of the Twitter chats being hosted by @diverseathon also. If you're planning to join me, please do say hi – leave me a comment down below or come find me on Twitter, Goodreads or Litsy (links in the sidebar). And, until the next time…