May has felt like a month where I haven't really got a lot read, which is daft now I look back and realise that I read no fewer than six books – five of which are included in this wrap up with one to follow in a review next week. I suppose it is because, whilst I greatly enjoyed many of the books I read this month, I'm in a bit of a book slump at the moment and my meh about some of May's choices is probably just because of that. I'm going to cut myself some slack for June and maybe take a few days off from reading to see if that helps. In the meantime, onto May's wrap up!
The Vegetarian by Han Kang (translated by Deborah Smith)
It is very rare to come across a novel that lives up to the promise of its cover blurb but reading Han Kang's 'The Vegetarian, which has recently won the acclaimed Man Booker International Prize, really is 'an extraordinary experience'.
Explaining what the book is about is difficult because, for such a slim work, it really does pack a lot in however, at its heart, this is the story of a South Korean suburban housewife called Yeong-Hye who decides to give up meat as a result of a terrifying dream. This unusual decision has repercussions throughout her family, as we follow first her frustrated husband, then her brother-in-law and finally Yeong-Hye's sister as they probe her reasoning, her mental capacity and her very existence.
Originally written as three interconnected novellas, each section reveals a different aspect of Yeong-Hye and the motivations behind her passive rebellion, as well as the impact that her startling decision has had on those around her. From her bland husband's descent into sexual sadism, which eventually drives Yeong-Hye to self-harm and hospitalisation, we then move to her brother-in-law who makes the unwitting young woman the centre of his erotic fantasies and his increasingly unhinged video artworks. Finally, we are left with Yeong-Hye's sister, her mirror image, who is struggling to connect her sibling's fantasies of escaping her bodily prison with the reality in which she is now forced to live.
Filled with provocative imagery, surreal and compelling storytelling and a quiet intensity, this is a powerful novel about mental illness, personal freedom and societal taboo. If you don't like the surreal and metaphorical, 'The Vegetarian' probably isn't going to be for you but, for readers who don't mind having to dig a little, this is a quietly intense novel with a great deal to unearth.
And Then There Were None by Agatha Christie (read by Dan Stevens)
Sometimes (as in, when you're in a book hangover from an intense and complex novel like 'The Vegetarian') you just need to take a break and get a bit of Agatha in your life. I've generally only read Marple or Poirot before so this, a standalone about ten strangers marooned on an island and gradually being bumped off one by one, was a bit of change. As with all of her works however, this is a fiendishly plotted, twisty romp filled with more red herrings than you'd find in the average fishmongers. Plus the ending is, for me anyway, right up there with 'Murder on the Orient Express'! 
It was great to listen to this as an audio – excellently narrated by Dan Stevens – as it really bought out the psychological tension of the story and the gradual 
unraveling
 of the characters. This is a far more psychological book than Christie's series novels with a real focus on the characters and their various faults and virtues. 
I can see why the novel causes difficulty for adapters and can be fraught with controversy however. Some of the language that Christie uses is extremely distasteful to modern readers/listeners and this can be quite jarring when you come across it. But personally I feel that it's important to remember the era the book was written in and also that these comments, when they appear, are reflective of Christie's characters' views and not necessarily of Christie herself – as with all her work, there is very little by way of authorial voice. So whilst that doesn't stop the comments being distasteful, I don't feel it stopped me enjoying the remainder of the story and it added to my perception of the character who expresses these views.  All in all, this is Christie at her most skilled when it comes to plotting & manipulation of her reader.
Carol by Patricia Highsmith
I had been so looking forward to reading this, which I have heard praised by numerous book bloggers since its rediscovery last year when the critically acclaimed film adaptation, starring Cate Blanchett and Rooney Mara, was released. Billed as one of the first lesbian love stories to feature a happy ending, 'Carol' (originally titled 'The Price of Salt') is the story of awkward young sales assistant Therese, bored of her job and her boyfriend, who meets glamorous suburban housewife Carol and promptly falls madly in love with her.
The novel is often praised for being an honest look at the role and expectations of women in 1950s society and the dangers faced by those who dared to step out of line. Unfortunately, whilst I could completely see that this was what the story was trying to do, I just didn't have any investment in the characters to make me care about their fate. Therese comes across as a whiney teenager with no sense of direction and Carol as a predatory older woman who picks up a young plaything because she's bored and lonely. As for the men in their lives, Carol's (soon to be ex) husband barely figures until he's needed for plot purposes and Therese's annoyingly optimistic boyfriend Richard was a one-dimensional irritant.
I always try to be somewhat positive about a book on this blog and I really don't mean to flame 'Carol' but I had such high expectations and I was so disappointed. The whole novel felt like a bad Merchant Ivory film where everyone stands around staring at each other and its meant to mean something. I get that a lot of people love this novel but I really couldn't get on with it and that was entirely down to the characters – Highsmith's writing is fine and the plot, such as it is, hangs together well. But all of the characters felt like actors playing the worst kind of caricatures rather than people with motivations, whims and desires.
That said, I did subsequently watch the film adaptation to see how that handled the story and I have to say it was absolutely fantastic. Suddenly I could see why this is considered to be a brave and honest love story – I truly felt for Therese and Carol, I wanted to thump Harge and shout at Richard, I felt angry about the position these women were put into simply for being themselves. It's so beautifully acted and the additional scenes that show Carol's perspective (which you don't get in the book) give motive to many of her seemingly cruel and inexplicable actions in the novel. The film is a marvel and I'd highly recommend you go watch it. As for the book? Well for me this was a rare instance of the film massively outclassing its source material but I am in the minority – the book has many admirers and I'd always say to try it for yourself.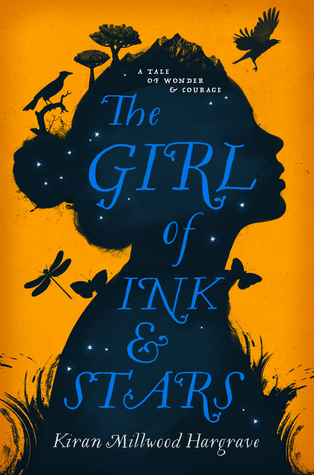 The Girl of Ink and Stars by Kiran Millwood Hargrave
I will freely admit that I picked this YA book up entirely because of the cover. As an object this is just gorgeous, from the stunning cover artwork, through the maps on the French flaps, to the compasses and map lines drawn on each page. The story itself is, however, marginally less successful than the production values.
Thirteen-year-old Isabella lives with her cartographer father on the island of Joya, which is ruled by a despotic governor who forbids anyone to leave. When a village girl is killed by an unknown monster and Isabella's best friend goes missing, Isabella disguises herself as a boy in order to lead the search into the island's forgotten heart.
It's a story with a nice blend of old-fashioned adventure, teenage angst and a dash of magical realism but it feels a little flimsy at times. This is a middle-grade novel so I'm not expecting the plotting to be Dickens or anything but I did feel a lot of the characters' lack motivation, particularly the adults. I wanted to know more about why the governor was so cruel and what had happened that led him to take over the island. Similarly, Isabella's dead brother is mentioned a lot but never figures in the plot itself so, to me, there was no reason for her to even have a brother, dead or otherwise. There were quite a lot of these little niggles – characters introduced and then tossed aside without any relevance to the plot, ancient myths that seem significant but never crop up again – that spoilt an otherwise very enjoyable blend of myth and adventure. That said, I did really like the focus on two strong and likeable female protagonists and the power of their friendship.
All in all, this was a quick and easy read and there is a lot to like about it but I just felt the story could have been a bit tighter, without quite so many loose ends and irrelevant diversions. It is gorgeous though and would make a great gift for any young readers in the family.
Satellite People by Hans Olav Lahlum
A simply ingenious continuation of the K2 detective series which began with 'The Human Flies' (reviewed back in March). This second book sees

Norwegian Police Inspector Kolbjørn Kristiansen

investigating the death of multimillionaire businessman and former Resistance fighter Magdalon Schelderup at a family dinner. Disliked and despised, even by his nearest and dearest, it soon becomes clear that only one of Schelderup's ten dinner guest could have committed the crime. But which one was it? It isn't long before K2 returns to the home of the brilliant and acerbic Patricia to enlist her in untangling the web of deceit that lies around Schelderup Hall.
Lahlum's plotting is up there with Christie's and will keep you guessing until the very end. And his detective duo, with their Holmes & Watson pairing, are engaging and 
likable
 – even if you share Patricia's frustration with K2 (especially when it comes his fallibility for attractive young women) at times! The 1960s setting does give the books a golden age feel but they do deal with issues such as homosexuality and single parenthood that Christie and her cohorts would have avoided, making Lahlum's series perfect for fans of golden age crime looking for something with a modern twist.
And that was May! As I said, June promises to be a little different because I do want to see if I can shrug off this mini-slump. I'm butterflying from one book to another at the moment – a sure sign that I'm struggling – so I think I might take a few days off, chill out with some magazines and maybe enjoy some storytelling in another format such as a film or a game. That said, I do still have a teetering TBR pile with some very interesting looking books on it so I really hope it won't be long before I'm back reading again. 
As always, I'd love to get your thoughts on any of the books mentioned, or any tips you might have on getting out of my book slump, so please do tweet me @amyinstaffs, say hi on Litsy (ShelfofUnreadBooks) or drop me a comment down below. And, until the next time…