I should get myself a pocket watch because, just like Alice's White Rabbit, I'm late again with my wrap up post. You'll have to excuse me again – the day job has been mentally exhausting for the last month or so and then there was the small matter of my 30th birthday celebrations to distract me so I've not booted up the laptop for a little while. To be honest, October's not been the best reading month for me. The aforementioned busy day job has left little energy for getting into anything too taxing so, whilst I have some great books in my TBR (I'm looking at you, 'A Brief History of Seven Killings') that I'm really looking forward to reading, I've just not had the little grey cells to spare. I've still managed two novels and two novellas this month though, so not bad going – although one is a bit of a cheat seeing as I read the majority of it last month but forgot to put it into September's Wrap Up post!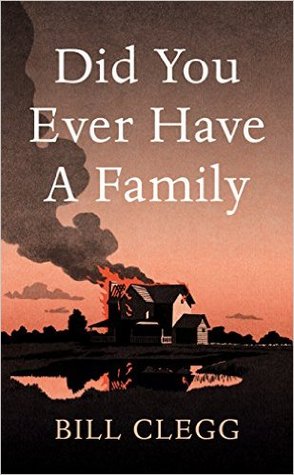 Did You Ever Have a Family? by Bill Clegg
This Man Booker Prize 2015 long-listed novel popped up on a few podcasts and Booktube channels and sounded really intriguing so, when I saw a copy at my local library, I decided to check it out. On the eve of her daughter's wedding, June Reid's life is devastated when house fire robs her of her daughter, her future son-in-law, her ex-husband and her boyfriend Luke. Grief-stricken and alone, June flees across the country to a small motel on the Pacific Ocean. In her wake, the residents of her small Connecticut home town and the people she meets along the way begin to emerge, each telling their own story of the family, the fire and the secrets that lie behind both. 
I'm not always a fan of novels with multiple narrators – they can easily become disjointed and I often find myself feeling as if I'm reading a series of connected short stories as opposed to a novel. With this book however, the narrative is extremely well handled and each new voice (some of which recur numerous times) adds something to the overall story, which keeps the impulsion in the plot. The subject matter is rather depressing – there are a lot of mistakes and missed chances in this book and many of the characters are carrying around a heady mixture of guilt and regret – but it's beautifully realised and there is a heart-warming (and heart-wrenching) sense of redemption in the closing chapters, as June and her fellow townsfolk come to terms with what has happened and start to look to the future. I'm actually really surprised that this didn't make the Booker shortlist – it has very similar themes to 'A Spool of Blue Thread' (my review of which can be found here) but, personally, I found it to have more depth than Tyler's novel, and with a greater sense of resolution and purpose to the narrative. Beautifully written and carefully crafted, this is a reflective look at love, loss and the many ways in which a family can be created. 
Grief is the Thing with Feathers by Max Porter
This one has had quite a bit of attention on Booktube and in the literary press over the last month or so. Part novella, part fable, part poetry-collection and part essay, this debut tells the tale of two young boys and their father, a Ted Hughes scholar, left bereft by the death of their beloved mother and wife. In addition to the expected well meaning visitors, they are visited by Crow – antagonist, trickster, foul-mouthed guest and unexpected healer – who threatens to stay until he is no longer needed. As time passes, and Crow's visit continues, the three begin to heal and the grief begins to pass. 
I really don't know what to think about this book. It's beautifully written and there are paragraphs and sentences throughout which nearly had me in tears. The grief that Porter describes is raw, unflinching, selfish, angry and tender all at the same time and he often manages to convey both great rage and great tenderness within just a few sentences. However I really disliked the more 'meta' elements of the book – the inter-textuality with Ted Hughes' 'Crow' and the work of Emily Dickinson, for example, and with the choppy, ever-changing style which sometimes felt, for me at least, more like artifice than art. There were certainly times when this book was both very beautiful and very clever but there were also times when I thought it knew that and was deliberately pointing it out to the reader, like the aforementioned Crow preening his feathers for all to see. That said, I would still recommend it to a friend 
– I think this is one of those books that everyone will have a different response to and it certainly challenges preconceptions and leaves you with plenty to think about as a reader. 
It's definitely not a book you can put in a box and is unlike anything else I think I have ever read but overall, this left me a little cold unfortunately.
Dolly by Susan Hill
As mentioned in my last post, I love a good ghost story around Halloween and, in previous years, I have especially enjoyed Susan Hill's particular brand of chilling tale. So imagine my delight when I found 'Dolly' in the library, a Susan Hill ghost story that I hadn't yet read! So I drew the curtains, popped the lamp on, grabbed a mug of tea and settled down to read…..a thoroughly disappointing ghost story. Oh dear. 
It starts off well, with two young cousins – Edward and Leonora – being sent to the remote and chilling Iyot House to stay with their maiden aunt Kestrel for the summer. The setting is sufficiently creepy and, as always, Hill has an attentive eye to natural detail, creating a real sense of the forlorn beauty of the Fens and the desolate atmosphere of Iyot House. Spoilt, petty Leonora is an unusual companion for quiet, reserved Edward but the two of them muddle along relatively well until Leonora is not given the specific dolly that she requests for her birthday. Her fit of rage and the damage that it causes have terrible, life-altering consequences for the cousins that will haunt both them and Iyot for the rest of their lives. 
And this is where I have the issue. Granted, Leonora is a horrific brat of a nine year old – the product of an indifferent absent father and a inattentive, capricious mother – but, in this case, the punishment doesn't seem to fit the crime. Most of the children I've ever met are prone to fits of pique and selfish temper tantrums but, annoying as that is, I've never felt the need to curse them from beyond the grave so the fact that the up-till-then seemingly pleasant Aunt Kestrel chooses to do just such a thing seems both baffling and out of character. And why the heck does cousin Edward get punished as well? For most of the story, he's far too boring to have ever done anything that warrants otherworldly vengeance. 
It's such a shame because, as always, Hill's writing is excellent and she has a real knack for characterisation (although Edward really is a terminally dull narrator) and atmosphere. But it's no use having smoke without fire and, with any close examination, the already dubious plot loses all credibility which makes it rather unconvincing as a chilling tale. Don't let it put you off reading any other of Hill's ghost stories however – all of the others are sinister little slices of pleasure that I've greatly enjoyed. All of which made 'Dolly' all the more disappointing.
Northanger Abbey by Jane Austen
And so to something I knew I'd enjoy, made all the more pleasurable by being able to read the gorgeous new Penguin English Library edition I'd purchased (the spine is stripey and has this lovely ruby red cover, as pictured). I love nearly all of Jane Austen's work ('Mansfield Park' being the notable exception owing to Fanny Price being as dull as dishwater) and I struggle to choose a favourite but I think 'Northanger Abbey' is pretty high on the list. 
The story of naive 'heroine' Catherine Morland, who is pretty without being beautiful and has learnt most of life's important lessons from reading sensational Gothic novels, is a witty pastiche of Gothic writing in addition to be infused with Austen's usual brand of social satire. I am a particular fan of hero Henry Tilney, who spends most of the novel gently laughing at Catherine (and inviting the reader to laugh along with him), as she stumbles her inexperienced way through her first season in society. Some critics (and readers) dislike the pairing, claiming that intellectual, witty Henry will soon tire of Catherine's naive innocence, but I think they spark off each other as a couple. I like the fact that Henry lets Catherine make her own mistakes and encourages her to reflect and learn from them, allowing her to develop her own judgement and character. He stands in contrast to the novel's antagonists, social-climbing schemers Isabella and John Thorpe, who are constantly telling Catherine what to do and how to think. Q
uite the modern hero, given the time of writing!
It's true that some of Austen's later novels ('Northanger' was the first book she ever wrote, although it was published posthumously) are more skilled and accomplished, as her plots become tighter and her satire gets sharper, but I remain extremely fond of Northanger Abbey. As an introduction to Austen, I'd certainly recommend it as it's the shortest of her novels and, I think, has the simplest plot structure and a compact cast of characters. It's also perfect for dark autumnal evenings when you need a reminder that not all things that go bump in the night are of sinister origin!
And so ends October, a bit of a mixed month really. Re-reading 'Northanger Abbey' shook me out of the reading slump I fell into mid-month and helped shake off the disappointment of 'Dolly' and I've got a couple of books I'm really looking forward to reading lined up for November, including a debut crime novel by a local author who is giving a talk at my local bookshop. I'm also gearing up for a 'His Dark Materials' readalong that Jen Campbell and Holly Dunn are running on Booktube (find out more here) in December to finally make good on my resolution to read the whole trilogy by the end of the year. As always, do tell me what your reading and what you think of any of the books mentioned by either leaving me a comment down below or sending me a tweet @amyinstaffs. And, until next time….