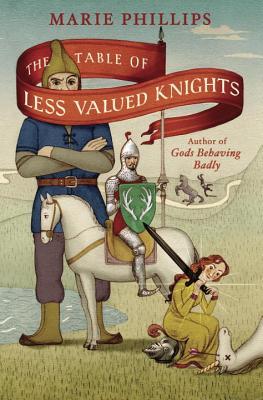 The book, which has recently been published in paperback, follows Sir Humphrey Du Val of The Table of Less Valued Knights – Camelot's least prestigious table – as he comes out of imposed retirement to take on a quest for the mysterious Elaine, a damsel in distress with a secret to hide. Along the way, Humphrey and Elaine become embroiled in the troubles of the young Queen Martha of Puddock, who is running away from her odious fiancé Prince Edwin, meet a twelve year old crone and are given a magic sword with a mind of its own by the Locum of the Lake (standing in for the full-time Lady, of course!). Soon they are embroiled on a great Arthurian adventure – although one that is a bit different from the usual stories you might have read!
Following her reading, I asked Marie a few questions about the writing of the book so that Fellowship members unable to attend could find out more about her and her work (and so that I could tell all you lovely blog readers about the evening, of course!):
The Shelf of Unread Books: What made you choose King Arthur as a subject for a humorous novel? Was there anything specific about the subject that you felt was ripe for light-hearted exploration?
Marie Phillips:
I've always loved the stories of King Arthur and I first had the idea of doing a comic version when I was ten years old. I wrote a story called 'Sir Totale de Zasta and the Holy Grail' about a hapless knight and his long-suffering horse. It was published in my school magazine and I never forgot how proud I was of it. Nearly thirty years later my sense of humour has not changed! I have long been a believer of the adage that no man is a hero to his butler – or in this case, squire. There are so many heroes in the Arthurian tales, and it was fun to look for the feet of clay. It's affectionate, though – everyone is flawed; in the end I concluded that either we all belong on the Table of Less Valued Knights, or none of us do.
TSoUB: The novel is really well-researched and it plays with lots of Arthurian tropes and traditions. What source materials did you use for research? Did you stick to the historical works or did you read more contemporary interpretations of Arthur and his knights as well?
MP:
I read a variety of texts, both historical and contemporary. Malory's Le Morte d'Arthur (someone should have had a word with him about putting spoilers in the title) was my main historical source. It involved an awful lot of people riding across the countryside and then having a duel. I dabbled in Tennyson, hugely enjoyed the Simon Armitage versions of various historic poems, and read lots of bits and pieces of other source texts when I was investigating specific storylines – that's how I stumbled onto the mention of the Table of Less Valued Knights, which is from the post-Vulgate cycle (don't worry, you don't need to have any idea what the post-Vulgate cycle is to enjoy the book.) I tried looking at some of the recent TV and film adaptations but I didn't enjoy any of them. I gave Monty Python a wide berth – I've seen it before and it's too hilarious, I didn't want it influencing me any more than was inevitable. My favourite source was actually The Once And Future King – TH White's retellings of the Arthurian myths are so breathtakingly good that I decided then and there to not even try to make Arthur's known knights the main characters in my story. Nobody could do it better. Instead I invented my own Camelotians with which to play with. As an aside, I was amazed how hard it was to get hold of The Once And Future King, I had to try several bookshops. Has it fallen from fashion? Everyone should buy two copies right now, one for themselves and one for a lucky child of their choice.
TSoUB
: 'The Table of Less Valued Knights' features some really fantastic female characters. Did you feel it was important to have female voices in the book and what was it about Arthurian traditions that inspired you to create Martha and Elaine?
MP:
I always try to write good female characters into my books, a world without women is only half a world. But for all that it's easy to imagine that the original stories of knights are stories about men, the Arthurian myths are positively seething with great women – Guinevere, Morgan Le Fay, several Ladies of Lakes of various levels of goodness or perfidy, a significant number of damsels in distress, who are not nearly as wet as the term suggests, and surprisingly many of whom are called Elaine – which is why I needed an Elaine of my own. It would have been a huge disservice to the source material not to have developed some forceful females, even if that hadn't been my inclination.
TSoUB
: Was there anything you came across in your research that you found really interesting but had to leave out of the finished novel?
MP:
All of the original knights of Camelot. Their stories were just too detailed and rich to give me the space to invent the narrative I wanted, which is why I came up with Sir Humphrey, my own knight hero. I was inspired by Arthur's knights the whole time I was writing, but they don't feature much in the finished narrative. On a different note, I really wanted to have some fun with the fact that the knights in the original sources are always taking the piss out of Cornish knights for being a bit rubbish. Much of this drives Tristan and Isolde, for example. But it didn't quite fit so it had to go.
TSoUB
: And finally, if you could choose one of Arthur's knights to carry out a quest for you, who would it be and why?  
MP:
I would like the Lady of the Lake to give me a magic pen that would cure writer's block forever. If a knight wanted to go and get it for me so that I didn't get my feet wet, I have always had a thing for Gareth: nice hands, good in the kitchen, loyal to the end.
As a lover of all things King Arthur and all things bookish, I can highly recommend 'The Table of Less Valued Knights' – Marie has a gift for comedy and her knowledge of the source material only adds to the amusement as she gleefully subverts traditional Arthurian tropes and gives the traditional themes of the quest narrative an ingenious twist. One of the few books to have made me snort my tea in public (thanks for that Marie!), it's genuinely funny and a delight for lovers of traditional Arthurian tales and subverted myths and legends. 
Many thanks again to Marie for taking the time to come and visit The Fellowship and also for giving this interview. 
'The Table of Less Valued Knights' is published by Vintage (Penguin Random House) and is out in paperback now, priced £7.99, and available from all good book retailers (links below).